Hello community
Is it possible that the result of a unexpanded period shows the sum of the sub periods?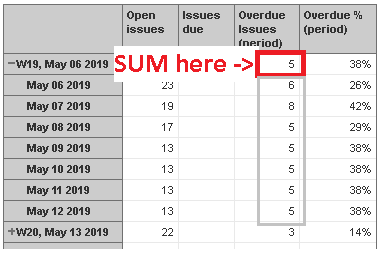 In this case I need to know two qty:
Overdue issues in end of period >> Got it in "Overdue issues (period)"
Sum of overdue issues of all of days to know the qty that I have left unresolved but discriminating the repeated.
E.g. 10 issues on Day 1, 15 issues on Day 2 (5 of them appear on Day 1) >> Total: 20 issues
Thanks a lot for your help!!