Hello,
I'm currently working on a metric that will allow me to know the amount of issues that raised up by their severity.
The thing is that we are catching that information from a custom field called "Issue SFDC Severity" imported as a property.
I was able to pull the information on each field by now, which gives me something like this: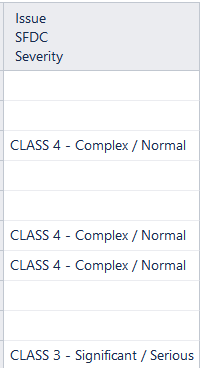 The problem is that I can't find a way to get a count of each one. I'm aiming for a bar chart that will show me how many issues appeared for each case.
Hopefully I made myself clear.
Thanks!
Lucas