Hello,
I'm looking for a way to combine information from the "Logged by Group" dimension with the "Logged by" dimension where I would be able to group (and sum) results on a group level.
The current report is something like this: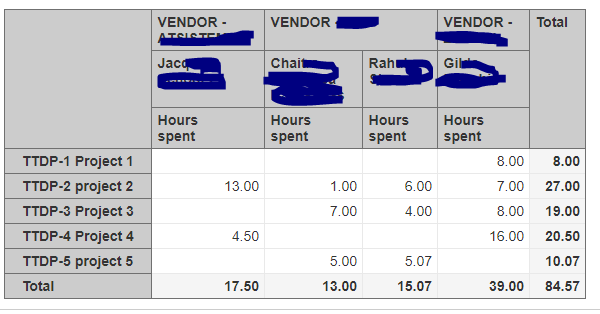 The information is logged time by user group (we use this to identify the different vendors) and by user.
We would like to be able to implode/expand the group level so that eazyBI also calculates the sum of all time logged by user / vendor.
I hope I've been able to explain what I'm achieving

Thanks for your help!
kind regards,
— Jacques Schoofs.
The definition is:
---
{

"cube_name": "Projects",
"cube_reports": [ {
"name": "Simple Spent time / per vendor",
"result_view": "table",
"definition": {"columns":{"dimensions":[{"name":"Logged by Group","selected_set":["[Logged by Group].[VENDOR Groups]"],"members":[{"depth":0,"name":"VENDOR Groups","full_name":"[Logged by Group].[VENDOR Groups]","calculated":true,"drillable":true,"expanded":true,"drilled_into":false,"id":"[Logged by Group].[VENDOR Groups]","removed":true}],"bookmarked_members":[]},{"name":"Logged by","selected_set":["[Logged by].[All Users]"],"members":[{"depth":0,"name":"All Users","full_name":"[Logged by].[All Users]","drillable":true,"type":"all","expanded":true,"drilled_into":false,"removed":true}],"bookmarked_members":[]},{"name":"Measures","selected_set":["[Measures].[Hours spent]"],"members":[]}]},"rows":{"dimensions":[{"name":"Issue","selected_set":["[Issue].[Issue].Members"],"members":[],"bookmarked_members":[]}],"nonempty_crossjoin":true},"pages":{"dimensions":[{"name":"Time","selected_set":["[Time].[All Times]"],"members":[{"depth":0,"name":"All Times","full_name":"[Time].[All Times]","drillable":true,"type":"all"}],"bookmarked_members":[],"current_page_members":["[Time].[All Times]"]}]},"options":{"nonempty":"columns","total":true},"view":{"current":"table","maximized":true,"table":{}}}
} ],
"calculated_members": [{"name":"VENDOR Groups","dimension":"Logged by Group","formula":"Aggregate(Filter(\n [Logged by Group].[Group].Members,\n [Logged by Group].[Group].CurrentMember.Name MATCHES 'VENDOR.*'\n))","format_string":""}]
}
---