Hello I would like to have the option advanced settings of eazyBI
Thank you
Hi @Absa,
eazyBI advanced settings are available from the top-right corner System administration → Settings.


Note that advanced settings are available only to Jira system administrators, Jira trusted users, and eazyBI admins (see the documentation Advanced settings for custom fields).
Best,
Zane / support@eazyBI.com
Merci @zane.baranovska
Maintenant je veux creer une mesure qui pourra me calculer l'intervalle de temps passées dans un statut En Cours et Términé
Ensuite quand je veux afficher la date de création d'un problème ça me renvoie un tableau vide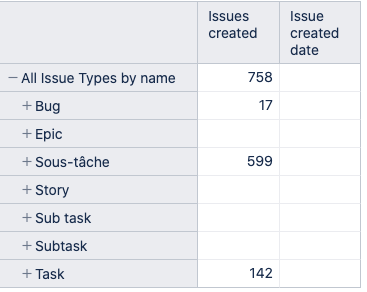 Do Owner has an access for advanced settings
Hi @MaheshwarReddy,
The Owner role does not grant access to eazyBI settings. eazyBI Advanced settings are availabe to to Jira system administrators and eazyBI admins on Jira Data Denter and Server (Advanced settings for custom fields).
We at eazyBI are currently working on a new improvement to give more freedom to account Owners and Data admins and allow them adding advanced settings for custom fields only for the specific account.
You may follow the changelog for updates to see when feature is released: Changelog - eazyBI for Jira.
I will also update this post when the feature is available.
Best,
Zane / support@eazyBI.com
Thanks for the info and issue got cleared.
Hi @MaheshwarReddy and @Absa,
​
Recently eazyBI released a new version 6.6, which includes a new feature that allows you to customize custom fields for one account only and create new JavaScript-calculated custom fields from the import options screen. Less Jira administrator involvement =) For more details please see the documentation.
Best,
Zane / support@eazyBI.com