Hello Everyone.
I want to check the Fix Version of the issues that have been created.
But if you look down, the total number of Fix Version doesn't match the number when you open it.
All Fix Version : 304 EA issue
If you expand it, you can see 51 EA issue.
When I checked, I couldn't see the items for "no version".
How can i see that??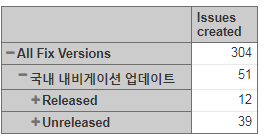 Thx

!