Hi,
Is there a way to map JIRA project names to new project names and create a completely new list of projects and new hierarchy from an excel file.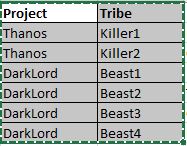 In JIRA, we have project names in different format and we want to structure them to give more meaningful reports for management.
I have been trying to upload an excel with this data but it fails every time, as i think it might be looking for similar matches in JIRA.