Hi,
I'm facing a strange behavior in eayBI with project dimension.
I have several projects in my JIRA and when I select "All projects" item I have a different set of issues comparing when I select all the project items using "multiple".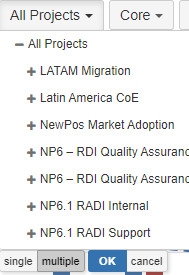 Seems like there are a different hidden project that is selected with "All Projects" item. I could identify the issue missed and his project appear in the list that I select using multiple.
Someone have idea why is different select all together with multiple or select the All projects item?
Thank you!