Hello there!
Thank you for this amazing app!
I am terribly sorry for attaching photos, not screenshots, but I have limited access to the Internet and can't send that kind of information to my personal mail.
For all the time we used your plugin, your built-in Measures were enough for us.
But now I have to create the report with the statistic on users and some details of their issues in a certain time period.
In our JIRA every Issue has a "Standart deadline" measure ([Issue Нормативный срок]) and a "Planned deadline" measure ([Issue Планируемый срок исполнения]).
So in the report I have to show the count of Delays ([Просрочка]) of the current Issues and the average value of the Delay ([Просрочка])
So, first of all, for Issues I define the new Measure [Просрочка] that returns
DateDiffDays([Measures].[Issue Нормативный срок],Now())
or
DateDiffDays([Measures].[Issue Планируемый срок исполнения],Now())
in differet cases (Status, non-Empty values etc.).
(pic.1)
Next step - I tried to determine the Count and Average value of the Delay as a function of time
And the calculation is correct on the level of the project.
(pic.2)
But I can't define the context of the specific assignee so the value is the same for every assignee.
(pic.3-5)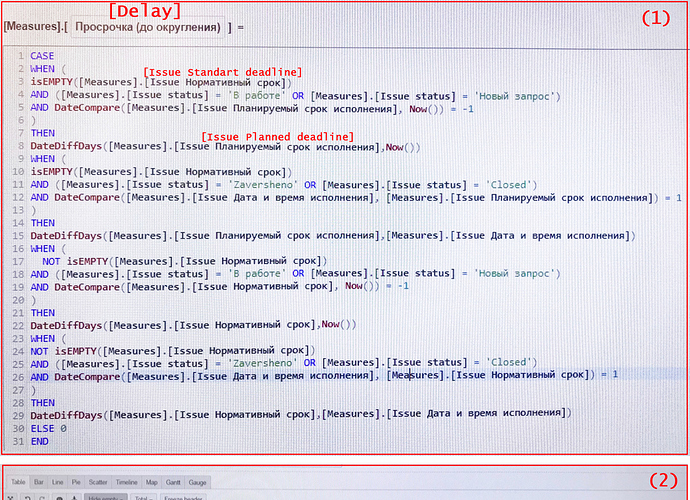 Please help me to determine the correct calculations and aggregate it for every levels of my Measures (Issue -> Project -> Assignee).
Again sorry for the quality of the photos (and their composition) and possible errors in my english.
Thank you for your time and best regards!
Sasha.