Hi all,
the add calculated feature is really great.
For example I am using it to show a dashed line, that shows the Cumulative Sum of the percentage of total issues, which looks like this: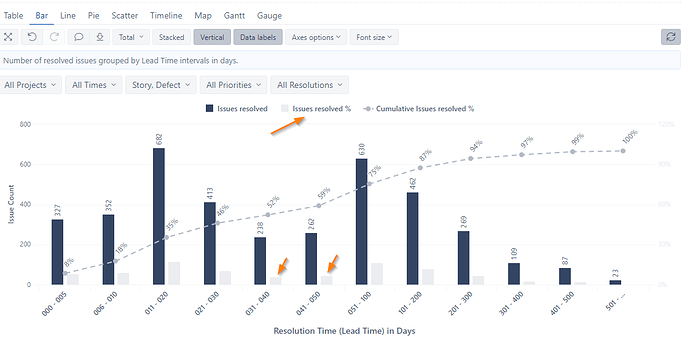 My question: I did this by adding the organde marked "Percentage of total" first, although I do not really want that to be displayed, I only need the dashed line.
Is there a way to edit the Cumulative Sum measure, to not need the first "Add calculated" bars for the percentage of total?
Maybe it can be done, by editing the added calculated measure and include the percentage of total somehow?
By default the cumulative sum is defined like this
CASE
WHEN CurrentTuple(VisibleRowsSet()).Item(0).Name = '$total_aggregate' THEN
[Measures].[Issues resolved %].Value
ELSE
Sum(
Head(VisibleRowsSet(), Rank(CurrentTuple(VisibleRowsSet()), VisibleRowsSet())),
[Measures].[Issues resolved %]
)
END
Thank you in advance and best regards, Markus