Hi,
I am pretty new to eazyBI, so please excuse me if I totally overlook something.
I want to create a report on the amount of links of a Jira issue. Basically, how many issues are been blocked by another issue.
But I am already struggling with import of the Issuelinks. I followed this description on how to set it up: https://docs.eazybi.com/eazybijira/data-import/advanced-data-import-options/import-issue-links
Lookin at the JSON i see the linked issues: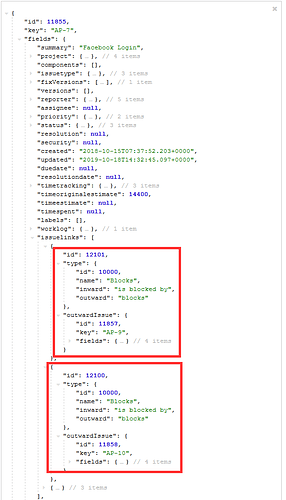 In the eazyBI settings I created the following customfield and imported it as Dimension and Property:
[jira.customfield_blocks]
name = "BlocKs"
inward_link ="is blocked by"
issue_type = "Story"
dimension = true
multiple_values = true
I tried any possible combination from in- and outward links, in the Report the Dimension stays empty.
How do i import and count the links by link-type? Am I missing something here? I am grateful for every hint!
Best regards,
Christoph Roll