Hi, to measure SLA we use Time to SLA.
I've managed to create measures with Time to First Response and Time to resolution, but they're summed up for every dimension, but i would like to have an average.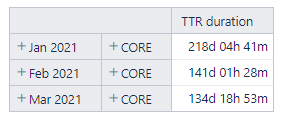 I've tried to add it through Add calculated/ Statistical/ Average but result is Average for all the data.
How can i write a measure to count average for different levels (project / month and so one)?