Dear EazyBI Community,
i tried now for weeks to get this running but i am failing.
I have a Dimension called Tools and this includes for every tool i have one entry.
I calculate the MTBF for each tool based on tickets.
What i need is the average of the tools in collapsed and expanded view.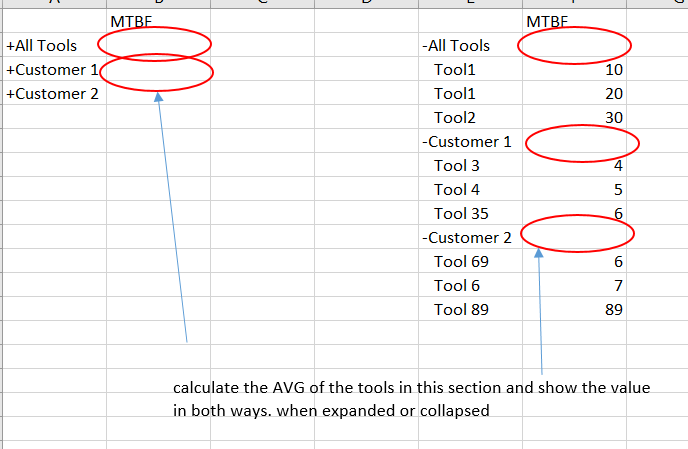 Calculation of MTBF:
Case when [Tool].CurrentHierarchyMember.Name not MATCHES "TSMC MBMW Fleet"
THEN
CASE WHEN DateInPeriod(Now(), [Time].CurrentHierarchyMember)
THEN
IIf([Measures].[Incidents]>0,DateDiffDays([Time].[Year].CurrentDateMember.StartDate, DateWithoutTime(Now())) * 24 /
[Measures].[Incidents],DateDiffDays([Time].[Year].CurrentDateMember.StartDate, DateWithoutTime(Now())) * 24 / 1)
  ELSE DateDiffDays([Time].CurrentMember.StartDate, [Time].CurrentMember.NextStartDate) * 24 / 
[Measures].[Incidents]
END

END
Calculation of MTBF AVG
CASE WHEN [Tool].CurrentHierarchyMember.Name = "TSMC MBMW Fleet" THEN
Avg(
–set of issues with lead time in selected period
Filter(
Descendants([Tool].CurrentHierarchyMember, [Tool].[Tool]),
[Measures].[MTBF [hrs]]]> 0),
–for those issues calcaulte the average lead time
[Measures].[MTBF [hrs]]]
)
END
But i dont get any value here.
Please help.
BR, Herbert