Hi All,
I'm trying to import a CSV and associate it with some Jira information. So that I can combine non-labour and labour costs for a Jira "initiative" (we use the term "Solution").
Currently i am importing the labour costs through EazyBI using its support for Tempo Timesheets. So that part is done.
What i'm trying to do now is combine the CSV of non-labour costs.
What i have tried to do is add a custom field to the Jira Initiative/Solution called "Project DP code", i am importing this as a dimension. This is a string of the form "DP0067" , "DP0071", etc.
In the CSV file I have the following (there are other columns too, but they're not relevant):
DP code Amount Date
DP0067 -26900 2022-04-01
I have tried to set the DP code as using the custom field i defined "Project DP code", to try to associate it all together but seem to have got something wrong.
Any suggestions for what I could do to resolve this? Or alternative methods?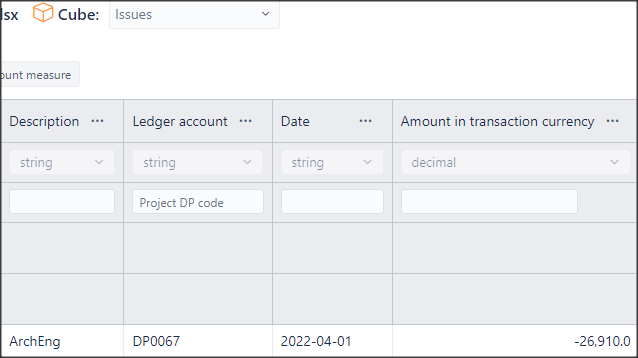 Thanks,
Cam