Hi,
I want to know, how many issues were set to Resolution "Fix Failed" from the issues a user has previously transitioned from Status Open to Status To be Regressed.
EX: UserA transitions issue-123 from Open to To be Regressed. Later UserB transition issue-123 to resolution Fix Failed. I want that issue to be counted toward UserA.
So far, I have my Transition Author dimension in Rows,
I use [Measure].[transition to status], [Transition].[Open => To be Regressed] in columns.
I don't know how to count issues amongst those that were Fix Failed.
Can someone help please?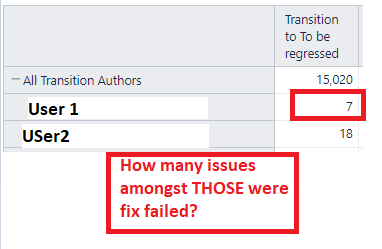 Thanks,