Good afternoon,
I would like you to help me creating a hierarchy where the week and the month are related in itself. By default, it doesn't exist and I don´t get with it. Could you help me?
You can see in the image below how it doesn't exist: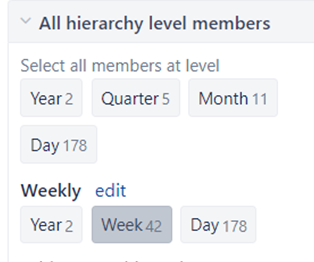 I have looked at the Eazybi documentation but I can't find where the Eazybi advanced options are… so I can be able to create it. I attach the link where I obtained the information:
https://docs.eazybi.com/eazybijira/data-import/advanced-data-import-options/additional-issue-hierarchies
Thanks!
Álvaro