Hi EazyBI teams,
I have a custom requirement for Epic cycles & Lead Times.
Epic Cycle Times: Since we do not want to be dependent on the Epic statuses, we want a new way which will be automatic. i…e We want the Epic cycle time to be started as soon as the first story within the epic moves into Development. The Epic cycle time should also end when the last story in the epic is Done.
To further simplify: The epic cycle time is calculated by epic resolution date minus the 1st relevant story moved into Progress. If the epic does not have any stories in it then the Cycle time would be calculated number of days the epic was in progress.
The story Cycle time is the amount of days the story was in Progress & in Blocked status. (For blocked we use Jira's default feature Flagged to indicate that it is blocked). The story can be flagged/blocked in any status.
So basically, we need a table where the Rows would be different projects & Columns would be the Epic cycle time & Story cycle time. Additional columns 80th Percentile, Avg Cycle Time & Median Cycle time for both Stories & Epics.
Additionally, the report should have filter to select the "fix version" so that we can see the cycle times for a release. & additionally, a filter to further filter the epics which were created during the release only & one last filter which can help me view Cycle times for In Progress Status epics.
Requesting your help in building this report. Thanking in Advance.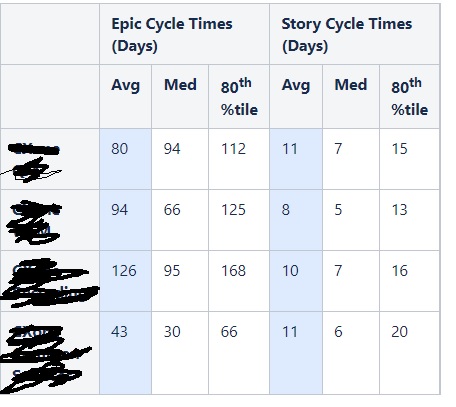 The filters are not present in the above image but are required.