Hi,
I'm seeking some help with eazyBI data mapping by uploading Excel files. Any help would be appreciated.
I have the following hierarchy:
Epic → Test Plan → Test Case
I'm importing data from two separate Excel files. One containing the hierarchy issues. The other containing the same hierarchy issues but also with Environment attribute. Both contain a common measure called Issues Created. I'm creating a multi-level hierarchy called Hierarchy1. I'm purposely keeping 2 separate Excel files as Test Case JN-4 has two values for Environment - DEV & UT. When I generate reports I want these on separate rows with a value of 1 each in Issues Created. Please see mapping below:


But when I use the dimension Hierarchy1 in the reports, the integers from the column Issues Created in both Excel files are added up and displayed.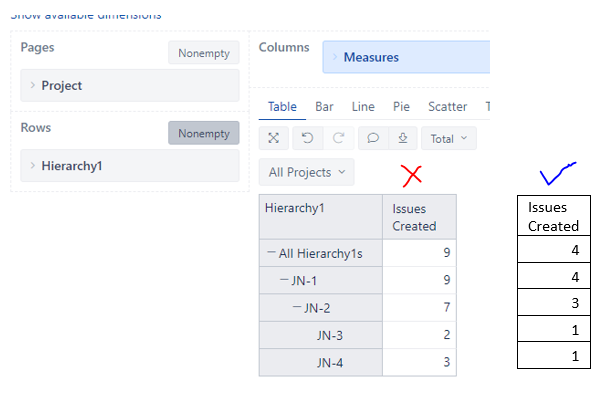 Is there a way to prevent the integers from the 2 separate Excel files from being added up?
Thanks!