I have a question:
In Jira I've made a custom field in Jira that indicates to which area this Jira is applicable. It is possible that a Jira is applicable to multiple area's. This custom field is also used in eazyBI to generate reports / charts. Below an example: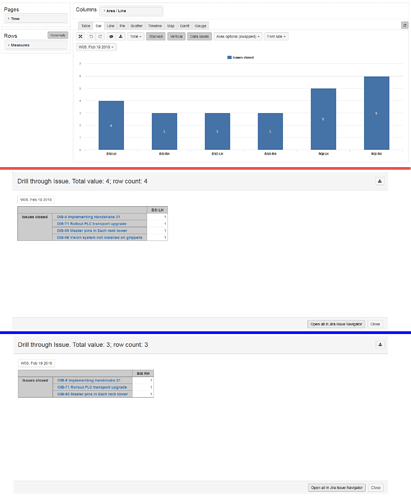 (I'm a new user so I can only post 1 image, so I pasted 3 images in 1)
When we drill into one off the bars we can see which Jira's are applicable for this area, for example BSI_LH. (Between red and blue line)
When we compare this to BSI RH, we can see that there are common Jira's: (Below blue line)
Can I make a filter or something to only show the unique Jira in BSI LH?
When I aggregate these 6 area's I get a total of 26. However the amount of unqiue Jira's is far less. How to I display this number correctly?
Thanks,