i've got a worklog report running. showing logged hours per project and only for the logged in user.
Pages: time selection works
Pages: Logged by "Eingeloggter User" is a calculated member: with this
[Logged by].[User].getMemberByKey(CurrentUser())

Rows is: "Project"
Dimension: Logged Hours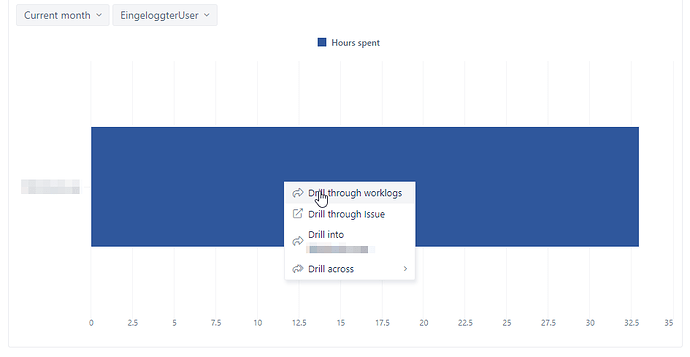 When I click on "Drill through worklogs" then it shows too much items, in sum its more than the 33 hours visible in this bar. Here it seems to show all worklogs wor the project for the specified time. (But the header in the table shown, indicates, that total should be 33 hours and only items for the "current user". but it shows also items from other users.
When I click "Drill through issues" - or "Drill into", then only items corresponding to the initial selection are shown which in sum are 33 hours.
is this a feature or bug or do i have to configure it differently? clicking on "Drill through worklogs" i would expect to see only the worklogs for the current user, which is the selection for the report?
thanks for your help.