I would like to import the attached Excel file, containing the release dates for our Fix Version.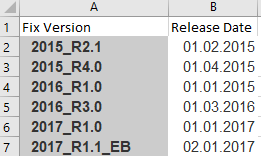 I configure the import as follows:
Cube: Issue
. Field Name Fix Version

Datatype: String
Dimension: Fix Version
Level: Version
Advanced options: Noting selected: Due to limited user doc, I've tried my best.

Field Release Data

Datatype: date
Rest is empty
However, when I start importing the data, I aways get the error message mentioned above.