Hi,
I have calculated measure that is showing numbers until end of the defined period. I need help with additional measure that will take last value of measure mentioned and fill empty cells into future, similar to cumulative.
In this case I want 262 in third column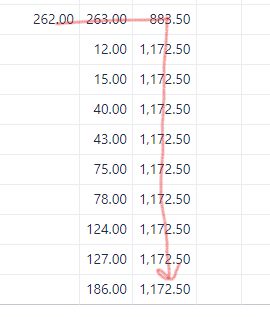 Currently I'm using cumulative sum formula but I don't know how to modify it to sum only last cell (I have the exact date of last value in first column)
case WHEN
DateBetween(
    [Time].CurrentHierarchyMember.StartDate,
    [Measures].[Enter 2nd date],
[Time].CurrentHierarchyMember.NextStartDate
)
THEN
Sum(
  PreviousPeriods([Time].CurrentHierarchyMember),
  [Measures].[prediction])
end

Please help, thanks.