Hello everyone, I would like to know if it is possible to filter active sprints to a specific project (bord)
Try using the Sprint dimension "By status" hierarchy. It groups Sprints primarily by their status and then by Board. See a screenshot below: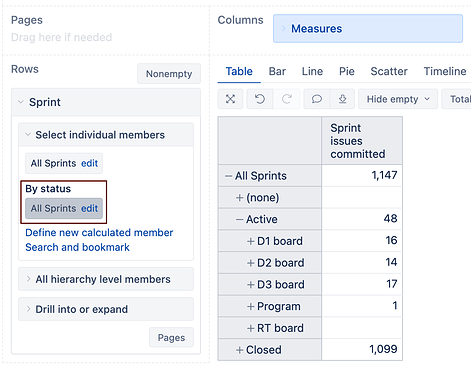 Read more about the Sprint dimension on the eazyBI documentation page - Jira Software custom fields.
Best,
Roberts // support@eazybi.com
how could i make this on the pages ?
The option to change the hierarchy is available while the dimension is in the report pages. Move the Sprint dimension in pages.
You can also select the dimension both in rows and pages. See the video at the end of the linked paragraph - Create reports. Make sure both have the same hierarchy selected.
Best,
Roberts // support@eazybi.com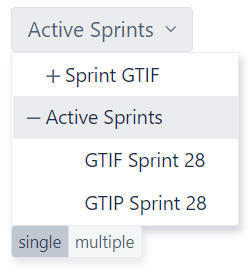 i got this using this measure, but i would like to show only one board GTIP in this case how could i make this ?
Aggregate(
    Filter(
      [Sprint].[Sprint].Members,
      NOT [Sprint].CurrentMember.getBoolean('Closed')
      AND
      IIF (IsEmpty([Sprint].CurrentMember.get('Status')),
      NOT isEmpty([Sprint].CurrentMember.get('Start date')) ,
      [Sprint].CurrentMember.get('Status') = "Active")
    )
)


You still use the default hierarchy in the Sprint dimension calculated member. It also aggregates the "Sprint" level members.
Try the "by status" hierarchy: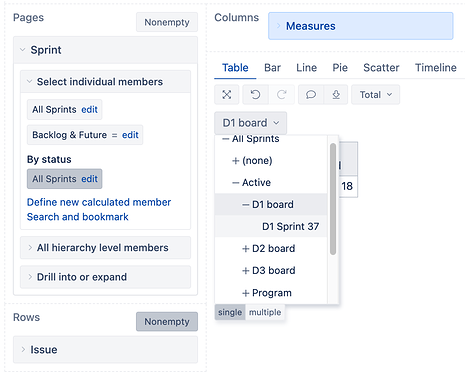 Best,
Roberts // support@eazybi.com

i got this using this calculated member formula
Aggregate(
  Filter([Sprint].[Sprint name].Children,
  NOT [Sprint].CurrentMember.GetBoolean('Closed'))
)