Hi,
I am trying to create a KPI measure for Xray Test Execution productivity, which has to be from a formula like number of tests executed per user per day. For this, i could count of users as below,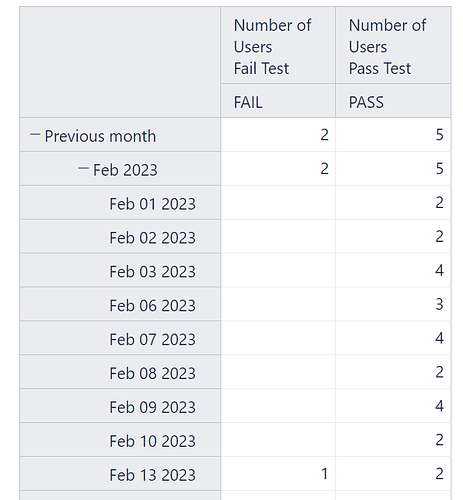 I used Calculated measure,
NonZero(Count(
  Filter(
    DescendantsSet([Xray Test Executed by].CurrentMember,[Xray Test Executed by].[User]),
    --related to time dimension by issue resolution date
    
     [Measures].[Xray Tests executed] > 0 AND
     [Xray Test Run Status].CurrentMember.Name = 'PASS'

)))

and similar one for FAIL TCs. But i am not able to get a total of PASS and FAIL to have unique user names across. Also, from this total value i have to divide Xray tests executed as per Time dimension like per day. I am not getting how to get the total number of users across Pass and Fail (only these two), and divide it by total xray tests.
I am looking for something like this as a result.
|Time|Number of Users|Number of Tests Executed|Productivity||
|Mar-23|5|21|3.75| <–Average of below two per day values
|15-Mar|5|10|2|
|16-Mar|2|11|5.5|