In a JIRA project, I have a "Management" issue that holds all the important info about this project, as the software factory responsible for this project, the current project phase (planning, developing, testing, conclusion), the creation date of this project and so on.
This same project have lots of Defect issues , all of them created during the testing phase.
I need a cube to show all the Defect issues status of all my projects, but I need these Defect issues grouped by the software factory that is responsible for the project. Note that one software factory may be responsible for several "ordinary" projects.
So, my rows must be something like: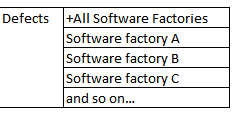 The problem is: the information of the software factory is NOT a custom field of issue Defects , but it is a custom field of issue "Management", instead.
Is it possible to create such grouping?
Thanks in advance.