Dear all,
is there a way to for example double the height of Diagrams in Dashboards?
The width can be changed with the 25%, 33%, 50% etc. buttons.
There is the problem that in a CFD with a lot of closed issues you cannot really use it anymore.
Maybe it is possible with eazyBi 5? (as we are on 4 at the moment).
In the analysis mode you can enter a min value, which kind of helps but this is not changeable in the Dashboard view.
https://eazybi.com/accounts/1000/cubes/Issues/reports/187032-cumulative-flow-diagram
Here two imgs to illustrate the problem:


I think there is not much that could be done, but maybe you have some ideas.
Here for example you almost do not see anything anymore: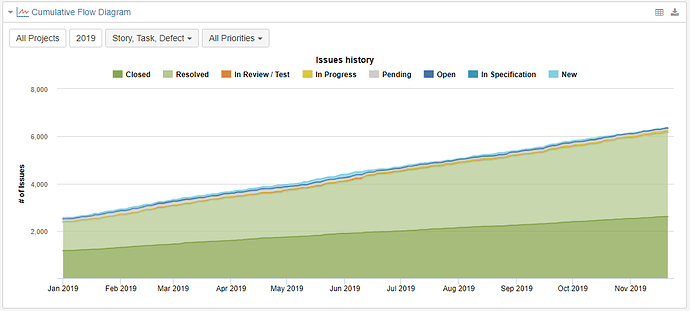 To filter out resolved issues also does not help, as they are then entirely filtered out, also their history, when they have not yet been resolved.
BR, Markus