Hi community! Completely newbie here, also a new eazyBI user.
I would appreciate any advice to build a tabulated report to show linked-issues count where columns headers are the date (year) of the creation date/custom field date in those linked-issues, and rows are the issues that they are linked to.
---
I am looking for something like this:
(this table is a recreation, not the real output)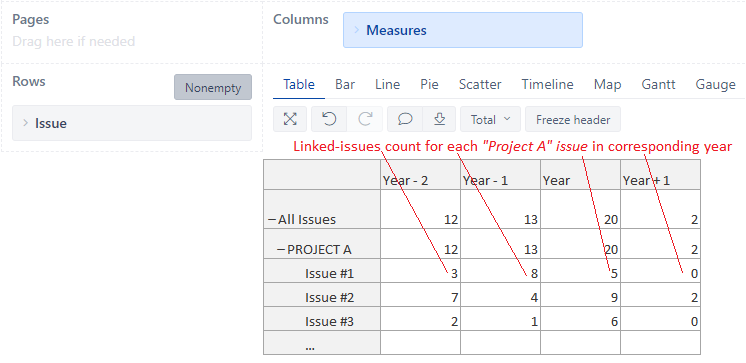 For instance: in row for "Issue #1", the "Year - 2" column would show 3 which is the count of linked-issues to "Issue #1" (no matter what type of link), and so on.
---
But so far all I have is this:
(image in next post)
I already imported the linked-issues and created a user-defined measure to count them and put them in a column, with "Time" dimension in the "Pages" section, but:
1st. I'd rather have (Year) in columns' headers instead.
2nd: I'd like to have the count of linked-issues grouped by their own creation date, not the date of the issue they are linked to (in Issues dimension).
Any advice would be greatly appreciated.
Regards!