Is it possible to get a list of reports that have never been executed?
We have that feature already turned on. We are cleaning up our instance and want to remove the reports/Calculate measures that were create but never used.
Is there a simpler way to create report that shows this information?
Hi @knayak,
this feature includes all the information about report usage and is meant to clean reports that are not used. About measures not used - if you try to delete them, there will be warning in case they are used in some reports.
But if this is not what you are searching could you share more details about what you mean by 'simpler way'?
best,
Gerda
We are trying to create a an opposite of "Top active accounts"
Hi @knayak,
Sorry for the delayed answer, missed your additional question.
For that, you can change the report by displaying the bottom rows: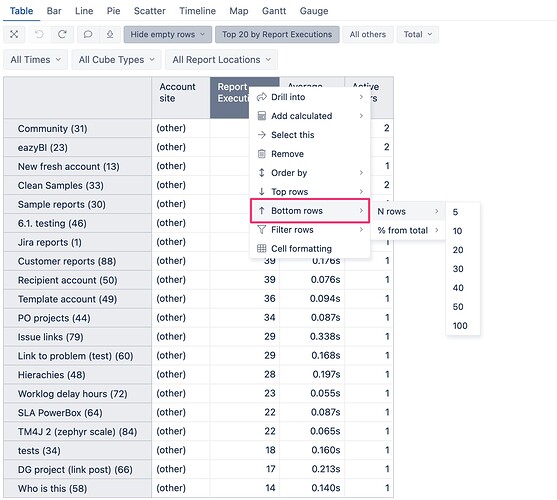 Kind regards,
Gerda // support@eazyBI.com
Hi I am new to easy I, we have enabled usage_statistics and I see some reports are generated in easybi home so how can we generate inactive reports ?