Hello,
Having troubles solving the below situation:
Issues have a numeric custom field "Impacted Transactions".
Additionally one Issue might have one or several "Regulations" (another custom field)attached to it. We are using "Regulations" in filtering, so when several "Regulations" are selected - amount of transactions is incorrect. Example:
Issue-X
Regulations: Alfa, Delta
Impacted Transactions: 4
I select multiple "Regulations" in the filter. As a result I get "Impacted Transactions": 8 for this one issue, because in the filter have selected Alfa and Delta, so transactions became 4+4. How should I only show transactions per ticket no matter the filter options?
Thinking that "Issue Impacted transaction" should be used…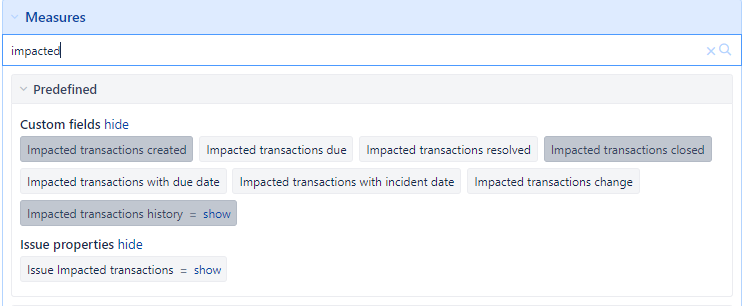 Solved similar problem where I needed to count distinct issues - used Distinct Issues count. However, unsure what custom formula to use in this scenario.
Can you please help?
Thanks