Hi,
I'm trying to create a table where I can see how many worklogs a user made in JIRA tasks for a certain period.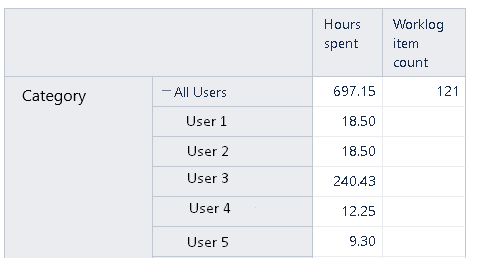 I tried code from this link Time Tracking Reports - number of time record - #2 by zane.baranovska but the number is only displayed for all users.
# Count of worklogs in each period by author
[jira.customfield_work_log_count] 
name= "Worklog item count" 
data_type = "integer" 
measure = true
multiple_dimensions = ["Time","Logged by"]
javascript_code=''' 
var worklognum = new Array;
var author = "";
issue.fields.worklog.worklogs.forEach(function(worklogitem){
  if (worklogitem.author) {
    author = worklogitem.author.key;
  } else {
    author = "(none)";
  }
  worklognum.push(worklogitem.started.toString().substr(0,10) + "," + author + "," + 1);
})
if (worklognum) {
  issue.fields.customfield_work_log_count = worklognum.join("\n");
}
'''

Thank you for your help.