Hi!
i'm trying to create a report that bring me the name of the status that each issues has been in the selected period. Using the Time in the Page to modify the period of study.
I tried some solutions but did't get what I was looking for.
First, i tried using "issue Status" but this measure get the actual status of the issues, so i don't have the history.
Then i tried using "Transition Status" but the only way that i found to use this dimension is combining with Issue history, and this option give me the historical but in numbers (the number of issues in each status in the specified time). And i want the "name" of the status, not the number of issues in the status.
The last measure that i tried creating was:
[Transition Status].CurrentHierarchyMember.Level.Name
But i get (All) for every issue instead of the name of the status for each issue.
The goal would be a report like the one that I drop in the following file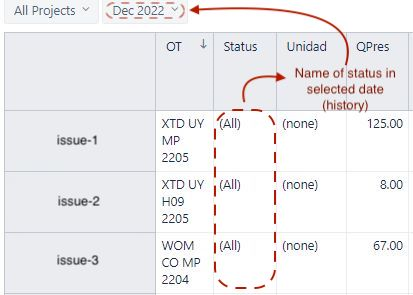 Best regards,
Miqueas.