Hello,
I have imported Issue Description dimension.
All of the issues in their description will have a repeating information. I need to be able to filter a specific sentence and make them as a separate type, then count the number of issues for that type and also include Status as the 3rd dimension.
Example Description text:
User: s12345
Location: Stockholm
Business reason for request: reason reason reason
Access level: Type 1
Date until this request must be completed: 2022-05-01
etc.
So in my case I need to extract access level as Type 1 (there will be either type 1 / type 2 / type 3) make them as separate "category". Count number of requests that are related to either Type 1/type 2/type 3 and also show their statuses.
We do not have separate fields for these "levels", because we have hundreds of such issues with different texts in description, so we cannot create custom fields in Jira for every single case. Therefore I was hoping maybe we can still do something out of the Description field.
The final idea is something like this: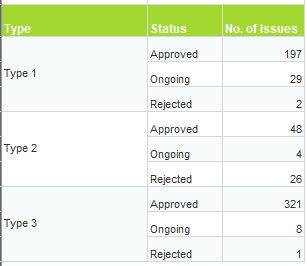 Thanks