We are using …
JIRA Service Desk 4.6.1
Jira Software 8.6.1
eazyBI Reports and Charts for Jira 6.4.2
I work for an IT department, in the health industry.
I am trying to report on time logged during the 'On Call' period of the day.
i.e. outside working hours, 17:00 till 07:00
Members of staff sometimes have to react to problems during the night, for which they log time on a ticket.
However, sometime the issue is not fully resolved, and further worked on during the day.
This time is then also logged on the same ticket.
I am trying to separate out the logged time from these tickets, to show how much work is done during 'out of Hours' periods.
e.g. in the work log below, 4h 15m was logged 'out of hours' & a further 30m was logged during 'normal working hours'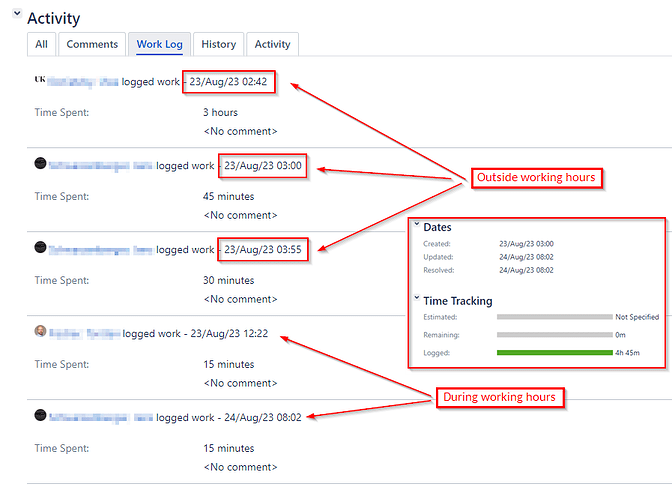 The Time tracking (Logged) in Jira, on the ticket, just shows all this time bundled together… 4h 45m
However, on the Work Log tab of the ticket, the individually logged peices of work, all have time stamps.
I cannot find a way in easyBI to split the Hours Spent measure down into anything smaller than Years, Months, Weeks & Days.
any ideas are appreciated.
Thanks.