Dear There,
I got some calculation error need help urgently… Thanks!
. Our project measure issue between "Submitted" and "Resolved" status
. Our project use customer field "Need Engineer Support", for each "Submitted" issue, its "Need Engineer Support" should be "Yes"
. Our project measure above issue data per month e.g. by end of each previous month and by latest time for existing month
Check screen shot below, the 1st highlight is showing 82 as latest submitted unresolved issue number by April, while the 2nd chart is showing 85, and the 3rd chart is showing 83 — the 85 should be correct number.
Could you help figure out what's wrong in the calculation? Thanks!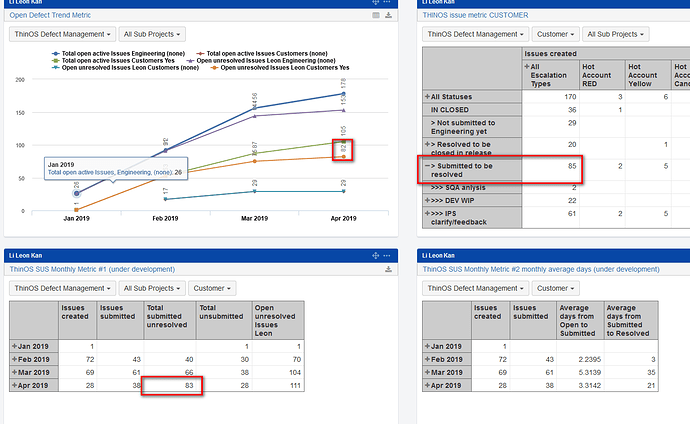 The calculation in 1st chart
*CASE WHEN [Issue].CurrentMember.Level.Name <> 'Issue' *
AND [Measures].[Issues created]>0
*THEN*
*  Cache(*
*    NonZero(Sum(PreviousPeriods([Time].CurrentHierarchyMember),*
*      Cache([Measures].[Issues created]*
*          - [Measures].[Issues resolved])*
*    ))*
*    + [Measures].[Issues created]*
*    - [Measures].[Issues resolved]*
*  )*
*WHEN [Time].CurrentHierarchyMember IS [Time].CurrentHierarchy.DefaultMember*
*THEN NonZero([Measures].[Issues due])*
*ELSE*
*  -- optimized formula for drill through Issue*
*  NonZero(IIF(*
*      DateBeforePeriodEnd(*
*        [Issue].CurrentMember.get('Created at'),*
*        [Time].CurrentHierarchyMember) AND*
*      NOT DateBeforePeriodEnd(*
*        [Issue].CurrentMember.get('Resolved at'),*
*        [Time].CurrentHierarchyMember),*
*    ([Time].CurrentHierarchy.DefaultMember,*
*      [Measures].[Issues created]),*
*    0*
*  ))*
*END*

The calculation in 2nd chart – this shows the correct number
Row by Status
The calculation in 3rd chart – this is not showing the latest data of any month…
CASE WHEN [Issue].CurrentMember.Level.Name <> 'Issue'

AND [Measures].[Issues created]>0

THEN
  Cache(
    NonZero(Sum(PreviousPeriods([Time].CurrentHierarchyMember),
      Cache([Measures].[Issues submitted]
          - [Measures].[Issues resolved])
    ))
    + [Measures].[Issues submitted]
    - [Measures].[Issues resolved]
  )
WHEN [Time].CurrentHierarchyMember IS [Time].CurrentHierarchy.DefaultMember
THEN NonZero([Measures].[Issues due])
ELSE
  -- optimized formula for drill through Issue
  NonZero(IIF(
      DateBeforePeriodEnd(
        [Issue].CurrentMember.get('submitted at'),
        [Time].CurrentHierarchyMember) AND
      NOT DateBeforePeriodEnd(
        [Issue].CurrentMember.get('Resolved at'),
        [Time].CurrentHierarchyMember),
    ([Time].CurrentHierarchy.DefaultMember,
      [Measures].[Issues submitted]),
    0
  ))
END