Dear community,
i try to make a measure that gives me the time difference between ticket creation and first assignment.
As a start i used the measure mentioned here in Time to first assignment (but accounting for issues assigned during creation) and added a DateDiffMinutes:
`
DateDiffMinutes(
[Measures].[Issue created date]
,
TimestampToDate(
([Measures].[Transition to first timestamp],
[Transition field].[Assignee],
[Time].CurrentHierarchy.DefaultMember))
)
`
Results (excerpt):
| Issue | Issues created | Time to first assignment | First assignment | Issue created date |
| --- | --- | --- | --- | --- |
| XX-001 | 1 | -59.93 | 2023-01-02 12:35:32 | 2023-01-02 13:35:28 |
| XX-002 | 1 | 1,311.98 | 2023-01-03 12:04:14 | 2023-01-02 14:12:15 |
and here is the history of issue XX-002. This issue was moved from one Project to another, but i also got the same results in cases where tickets were not moved :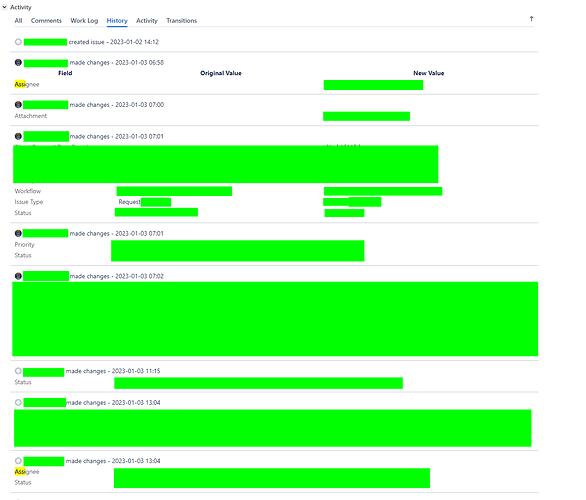 Now these results i get show me two things:
It apparently only takes into account the timestamps if the assignee got changed within a transition
The Jira instance is operated from two different time zones and it seems they are not aligned with the two values for creation datetime and what i get from [Measures].[Transition to first timestamp]
Questions:
ed. 1.: How can i actually get the timestamp of the first assignee even if it is not done within a transition?
ed. 2.: I thought the timezones get aligned during import according to the specified timezone in the import settings, but seems like this is not the case for the transition timestamps, is there a possibility to reformat them or for them to be aligned as well?
Thank you,
alex