Hi!
I'm trying to create a graph that shows a daily rundown of issues NOT closed yet during the sprint (after it's completed).
It's almost, but not quite like "open issues", because the latter doesn't catch irregularities that I'm after (e.g. issues closed before or after the sprint proper).
I can get the correct total count through [Measures].[Sprint issues at closing], but I can't figure out how to use it for a running count, since the number appears only during the day when the sprint was closed (in my example, 6 June). For the rest of the days, it's null.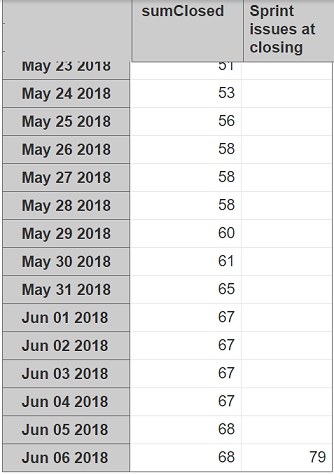 For a running cumulative count of closed issues, I have:
Cache(
  NonZero(Sum(PreviousPeriods([Time].CurrentHierarchyMember),
    [Measures].[Issues closed]
  ))
)

Any ideas how to integrate [Sprint issues at closing] to that?
Thanks a lot!