Hey EazyBI community,
I am quite new to EazyBI and want to solve a reporting, which was done until now in Confluence and with JQL Filters. Acutally it is working, but it is painfully slow and the maintenance is time consuming so I try to figure out how to create this report in EazyBI.
I tried to gather all information in a small visualisation: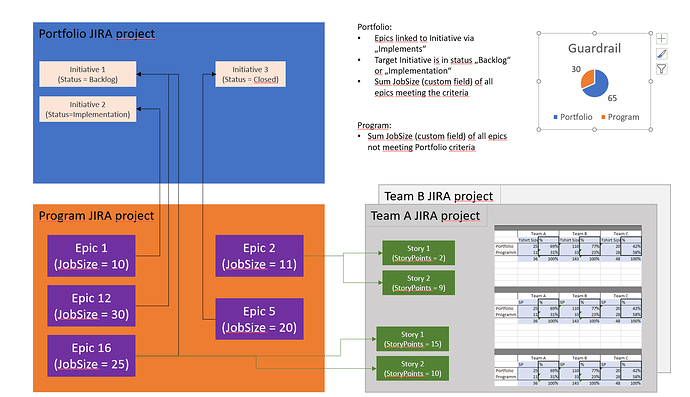 In the first step it would be awesome to visualize the Guardrail based on the sum of the JobSize of Epics meeting the criteria for portfolio or program topics.
In the second step I want to visualize also the storypoint guardrail and therefore I have to sum up all story points of all stories of epics categorized by the same criteria as in the JobSize guardrail.
We have 1 portfolio JIRA project, n Program JIRA projects and m Team Projects.
I hope the goal is clear and you can help me out how to create this report in EazyBi :-)!
Thanks a lot in advance.
Michael