hi
Take as an example:
https://eazybi.com/accounts/1000/cubes/Issues/reports/514679-eazybi-playground
Let's follow these steps:
Step 1: In the column "issues closed", add "% of Total"
Step 2: Deselect the "Year" level in the TIME dimension present in ROWS
Step 3: Click to expand the table.
Step 4: Remove a line that has a value
The percentage result is correct for the rows that display the members, but not for the grouping.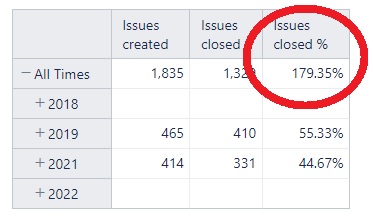 Even the other columns (issues created/closed) are wrong in the grouping line (All Times).
Somehow the error doesn't happen when the action done by the user is "Select this". The recalculation is correct in this case.
I have this problem in my reports.
Is there a way to fix it?
Thanks