In many reports we looking for a sum/count or other calculation based on the issues related to the rows. What is the easiest method of getting these issues in a calculated member?
Example;
As row, we selected 'Fix Version' and as column 'measures' and 'segment'. Segments are in this case, B2C or B2B. (based on a multiple select field)
In the overview, we want to sum story points per segment, based on Fix Version. When an issue is for both segments, the total of story points should be divided by the selected segments.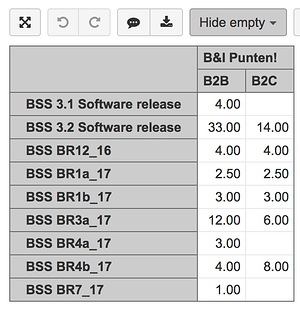 What is the preferred method of getting the issues for that row? My current filter looks like this, but I'm sure there is a better way

filter(
      Descendants([Issue].CurrentMember, [Issue].[Issue]),
      [Measures].[Issues resolved] > 0 AND
      [Measures].[Story Points] > 0       
 )

Cheers,
Stefan