I need create a report that tracks how many times a bug passes through a certain transition.
For each project I must count e show if passes 1 time in X transition or 2 times or 3 … and i present this measures in columns.
For good presentation, I created calculated member that aggregate the issues per project, (with a fancy name), for example, the issues of CBB project, I did "aggregate([issue].[CBB])" and named as "Squad Captação Bancaria", and when I expand, I can see each issue for the criterias.
When I use only the tuple "[measure].[pre-b]" on columns "Totals", everything is showing correctly, but when I try separate per "X recorrences" of certain transition per project/issue, my calculated members came back empty.
I need that, for example, the number the appears in "Squad Captação Bancaria" be the same number that appears in "CBB"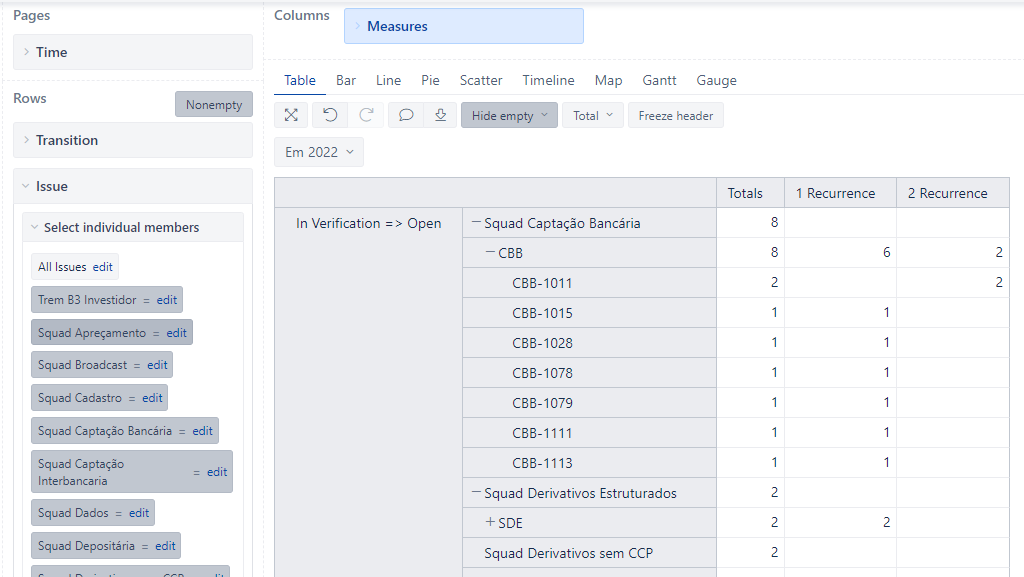 This is how my "X Recorrence" calculated measures looks like:
[Measures].[1 Recorrence] =
CASE WHEN
    [Issue].CurrentHierarchyMember.Level.Name = 'Issue'
THEN
    CASE
        WHEN [Measures].[Pre-B] = 1
        THEN 1
    END
ELSE
   CASE WHEN [Issue].CurrentHierarchyMember.Level.Name = '(All)'
   THEN Sum(
          Filter([Issue].CurrentHierarchyMember.Children, [Measures].[Pre-B] = 1),
        [Measures].[Transitions to status]
        )
   ELSE
    Sum(
        Filter(
            - `Preformatted text`- iterate through Issue dimension "Issue" level
            Descendants([Issue].CurrentMember,[Issue].[Issue]),
            -- return a set of issues matching condition
            [Measures].[Pre-B] = 1
        ),
        - - evaluate the set of issues over the measure below
        [Measures].[Transitions to status]
    )
   END
END

My "Totals" :
[Measures].[Totals]=
-- In "[Measures].[Pre-B]" contains ([Measures].[Transitions to status],[Issue Type].[Bug])
[Measures].[Pre-B]