Hello,
I have a problem: In my Jira project we have created 6 custom fields. Two of them are string type (SWF GADGET REQUEST and SWF CLARITY PROJECT) and the other 4 (the rest) are value selection lists.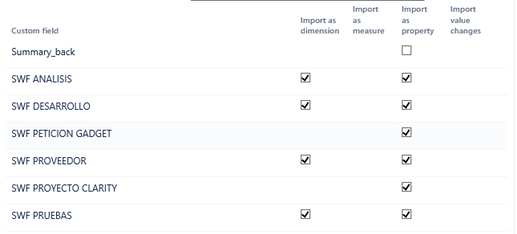 When I want to use them as dimensions to filter in the eazyBI reports, only the 4 of list type appear. The two of string type don't even let me import them as dimensions so I can't use them for filtering.


Is there any way to be able to filter also by the two of type string?
On the other hand I have seen that the default field Label (string type) does appear as a dimension to filter.
Thanks very much in advantage!!