Hi EazyBI team!
I'm a fairly new user of the platform and I'm currently trying to build some logic out of MDX.
I'd like to create a chart that shows Stories that are "At Risk" of not being completed by the end of the Sprint.
My take would be to use a CASE WHEN function where if the Story End Date is > Sprint End Date THEN the specific story would be counted as "At Risk" among the total number of stories part of the Sprint.
The following is the result I had, I can't understand why the difference between the two dates is read by EazyBI as mm dd yyyy.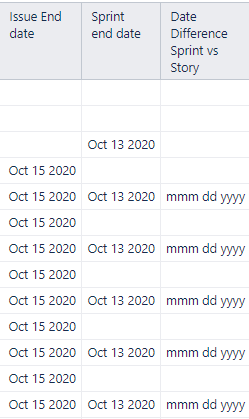 Also, is there a way to completely automate this process? For example if a certain story is not in a certain status by a certain number of days before the end of the Sprint, then it should be marked as "At Risk" (That's a possible way of seeing it but I'm totally open to suggestions)
Any help would be highly appreciated, thanks!