Hello
So I created a weekly and monthly chart where I can see each employees contribution in work hours. On the charts there's a static value of "potential" where every employee has a unique potential (35(realistic potential) and 40(official potential) on the chart).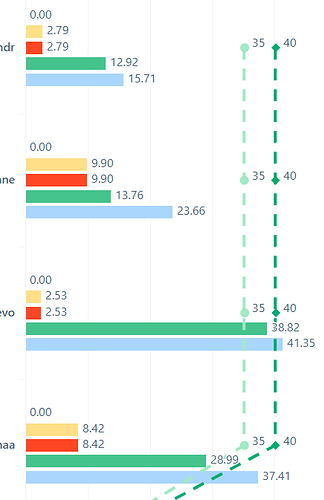 Now I have a chart that does the same thing but in the charts there are multiple weeks together. The "potential" static value is missing.


Therefore my problem - is there a way to have a static modifier(potential) that is filtered by assingee and by week aswell. For example employee1 has a potential of 35h on W18 and W19, some days off W20 therefore the potential is lower etc.
How I calculate potential:
CASE [Logged by].CurrentMember.Name
– Eäri1–
WHEN "Employee1" THEN 0
WHEN "Employee2" THEN 35
WHEN "Employee3" THEN 40
END
Desired outcome: