Hi,
I've been working the last days on trying to 'extend' the template 'Version Report' to our needs:
I tried to display not only the story points history and resolved, but also the story points in each (aggregated) status upon each day (ready, in progress, in testing,…).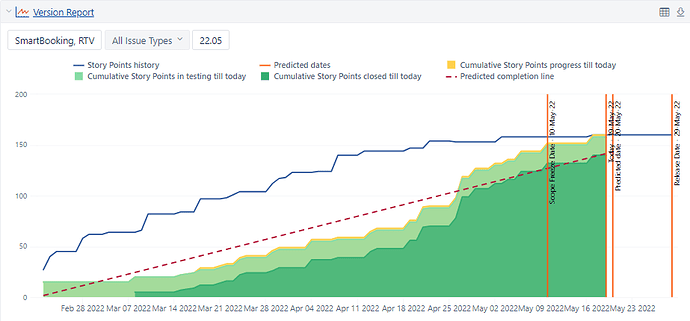 So I basically aim at recreating the same measure as the native "Story Points Resolved" and "Story Points Closed", but for each status… Once I'd have that, I can reuse the same "cumulative till today" method as shown in the version report… But I'm lacking that original measure and don't know how to recreate it for my own statuses…
I've been tying to find my way around the issues history, story points history,… but to be honest, I'm just losing it and getting more and more confused…
Any help would be super welcome !
Thanks !
PS: You may think from the graph that I did get there, but you'll notice if you pay attention that the "In testing" and "in progress" are in fact just a snapshot of story points in these statuses today,… then today's values being applied across the graph… So definitely not reflecting the real history of each story (and its story points) transitioning over time from one status to the next…